Most of the value a company generates comes from its intangible assets. An increasing number of organisations are aware of this importance and adopt brand strategies to achieve competitive advantages. The SUMMA Branding Studies Department has identified four basic strategies that challenging brands undertake, which we have called Category, Thematic, Adaptation and Integration. In this article we decipher the keys to these strategies, which are becoming more frequent: this is the right time for those bold enough and to change the rules to detect new opportunities.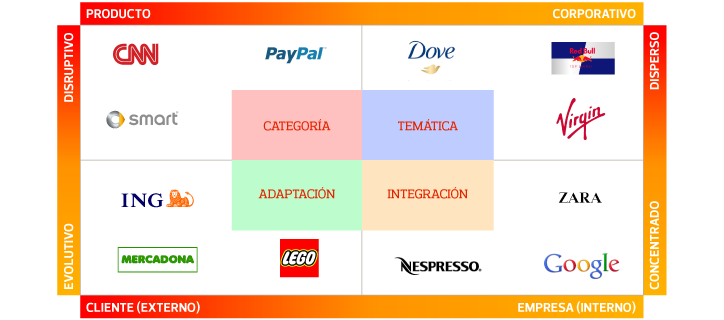 Challenging brands use new branding strategies to generate audience preference for their products or services. In general they get ahead of trends and make the best use of changes than their competitors; they question the established rules and generate value propositions that are bold and differentiated.
These brands are defined by a concept of challenge on which they develop business strategies and identity, which can be considered from four great perspectives:
1. Challenges linked to the capacity to adapt to or anticipate change and trends. These are brands that respond best or most quickly to market changes and that stay ahead of trends with incremental advances. This is an evolutive approach centred particularly on the customer, for whom they gather trends, technology, insight and motivation.
2. Challenges linked to product category. These are brands that establish a new category with its own rules and affect a key driver or dimension. This is a disruptive approach often inspired by changes in products or services.
3. Challenges linked to process integration. The brands in this category extend their influence throughout the process, from conceptualisation to end user experience, incorporating all the points of contact in brand's value chain.
4. Challenges linked to the creation of new territories. These brands question the culture surrounding their activity, proposing their own universe and story expressed on multiple media in a differential language.
CATEGORY
Smart
Small cars
This urban brand was created by an unusual association of companies: a joint venture between Swatch and Mercedes-Benz. They make economical cars for urban use, a concept that gave rise to a new category in which they have operated for years with hardly any competition. They were able to spot the latent needs in terms of mobility in many large cities (limited size, easy to drive and easy to park). Thanks to its size and design, it has been the brand par excellence of companies with sales networks. Their ability to revolutionise the category has been restricted to a series of cars and today new players have been incorporated into the category. At the same time they have been unable to give them new attributes such as electric or hybrid engines. From the point of view of the brand, the disruptive advance has not spread from the product to the organisation, which would have generated a powerful differential trend.
CNN
A 24-hour cable television news channel
Cable News Network (CNN) is a US cable news channel that made a new concept tangible: globalization. Created in 1980, it was one of the first global products in the media industry and it generated a new category as the first channel to broadcast 24-hour news from all over the world. The heads of CNN turned the world into a huge TV set for news events in real time, where one had the impression of being part of world reality. Despite the power of this category centred on a disruptive product, they have not developed an integration programme to concentrate and extract value from the growing digitization of communications and content with multiplatform dynamics.
PayPal
A system of payment via Internet which is not the product of a financial institution.
Internet has become a global market without borders and with an enormous shop window. One of the crucial steps to achieving this is the payment system. PayPal is a crucial response developed disruptively by a company that is not in the banking sector. This is an unequivocal example of how, frequently, sectors are questioned by agents that are outside of them. Currently owned by eBay, the company enables the transfer of money between users who have an email address, which means a disruptive alternative to the traditional cheques or money orders. This is a brand that has been able to adapt to the needs that online shopping generated amongst consumers and it has created its own category, as PayPal is not a bank and is not governed by the same laws, although it is controlled in similar fashion by the government agencies of the United States and Europe. eBay bought PayPal in October 2002 (it was the payment system used by over 50% of eBay users) and today it is a leading brand in its category.
ADAPTATION
ING
Your other bank, this time online
With no sales network. With hardly any branches (except for a few information offices). With no direct contact with their clients (this is by phone or online). Despite these shortcomings, or rather because of them, this Dutch bank has found a place in the market: 'your other bank' thanks to the support of IT. By adapting to the increasingly digital reality of the market, ING has become the leading online bank, based on a banking model centred on saving and low commissions. Its banking model registers lower operating costs than other traditional banks, which allows it to offer high returns on savings and successfully adapt to the market.
Lego
Reinventing itself while staying true to its essence
The Danish toy manufacturer is easily recognisable by its characteristic interlocking plastic building bricks. Although a historic brand in the sector in Europe, between 2001 and 2004 it registered considerable losses as a result of growing competition from manufacturers with a greater selection of technological products (particularly video games and other new forms of entertainment). As of 2005 the company altered its strategy and connected with the expectations and experiences of its fans, combining technology and plastic bricks. Today Lego is openly working innovation and adapting to the hopes and communication codes of consumers to constantly reinvent themselves.
Mercadona
Value for money in the distribution sector
Mercadona is a chain of supermarkets each around 1,300 square metres located in urban areas that sell food, cleaning, household and perfumery products and accessories. Its proposition is low prices, the differential feature that is expressed in the distribution brand and in the removal of non-leading manufacturing brands. Today, this offer selection model, which Mercadona follows faithfully has become a recognised differential proposal that adapts to the consumer requirements of an economic crisis. As a result of this approach, in 2011 Mercadona had a higher global turnover than the El Corte Inglés group making it the number one retailer in Spain.
THEMATIC
Redbull
A brand history based on 'Red Bull gives you wings'
Red Bull is a brand that reinvented a category in a market controlled by major players. Its proposition is structured in the concept 'gives you wings', on which it has built up a brand story that combines adrenaline, risk and competition. For years it promoted related activities, such as motocross jumping, aerobatics and crazy car racing, although last October, they achieved great visibility with Austrian parachutist Felix Baumgartner's jump from the stratosphere. Millions of people watched the jump, a corporate action that faithfully connects with the brand's values. Red Bull is a company that not only markets energy drinks, but also produces and generates global and multiplatform content. In short, Red Bull has developed its own subject matter which gives the brand differential meaning that is expressed in all its corporate activities.
Virgin
A lifestyle extended to an entire corporation
Virgin is the brainchild of British multi-millionaire Richard Branson. The group comprises a heterogeneous set of over 360 companies in various consumer sectors. All of the companies use the Virgin brand (in a classic monolithic brand model), but, at the same time, they all drink from Branson's personality. The success of this brand lies in the fact that he has created a brand identity that is not only linked to products or services, but to the lifestyle customers aspire to: positive spirit, joie de vivre, youthfulness and adventure… The name Virgin itself, in reference to an unconventional way of creating and managing business, reinforces this theme to generate value relationships with its audiences.
Dove
Proposing a change in the concept of beauty
With its campaign for 'Real Beauty', Dove is a consumer brand that that has taken over new brand territory. This is a space that did not exist before Dove and that generates new relationships with the consumer, who has changed and demands a closer and more authentic environment. The Dove subject matter is a battle to break with beauty concepts that have become stereotyped, above all in regard to women. With solid positioning, differentiated from the competition, they declined these values in all of the brand's communication elements (logo, packs, graphic and sound creativity…). Dove is a Unilever brand that has generated its own differential space (connected with doing something big and beautiful in the real world), an approach that contrasts with another of the group's brands with an equally powerful but contradictory proposition: Axe.
INTEGRATION
Zara
From product conception to point of sale
Zara is a Spanish fashion chain owned by the Inditex group with more than 1,650 stores in over 70 countries. The Zara strategy is based on a vertical integration model throughout its value chain: Zara conceives, designs, buys, produces, distributes and sells. This integration brings two great achievements: total control of the brand experience (from placement in stores to selection for display windows) and an organisational flexibility that make the fast fashion concept possible : products go from design to stores in under two weeks. In this way, the company can respond rapidly to fashion trends and consumer tastes.
Nespresso
The brand in the whole business and communication process
Nespresso is the Nestlé brand name of a proprietary single-dose pod coffee system. The brand opted for a completely integrated system of points of contact, from product to machines (domestic models and specialised models for clients with specific requirements) to the purchasing process. Nespresso hopes to generate a unique, distinguishing user experience that connects with luxury and pleasure. It does this through complete brand control, from manufacture and distribution to, above all, purchase and the user after-sales experience. Thanks to this strategy, it has avoided the commoditization of the product, generating competitive advantages through a proposition with attributes that are cooler and more sophisticated.
Google
Integrated innovation as the only way to adapt to change
Google is the world's largest Internet search engine. But that's not all. The corporation provides other services under the same brand and value chain, such as email (Gmail), 3D maps (Google Earth), instant messaging (Google Talk), videos (YouTube), a social network (Google+) and an operating system for mobile phones and tablets (Android). Google has woven an ecosystem that connects a clear commitment to R&D, generating differential products of global scope that spread thanks to the fact that they are often free. Although contextual online advertising is its core business, its competitiveness is based on its ability to connect and integrate all its advances to generate a platform that is unavoidable for any internaut.