Grabbing the opportunities offered by the digital environment is a challenge and a necessity for all types of brand. However, digital strategies must be developed on the basis of different factors. We discuss this question in this issue of Allbrand.
In SUMMA, we have identified that the origin of a company and its approach are two key factors that define the strategy that a brand carries out in digital environments.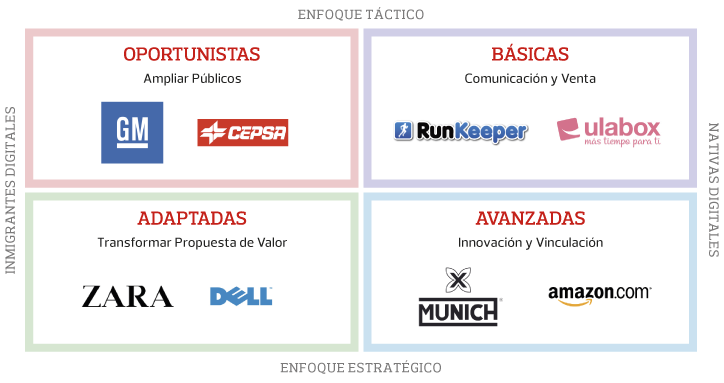 Based on origin, some brands were born in the digital environment (digital natives), while others were conceived before the Internet revolution (digital immigrants). The latter generally use traditional relations and marketing systems, sending one-way messages to their potential customers. These are companies that are not present or fail to use the digital environment to its full potential. Conversely, digital native companies were born with the Internet and have adapted more naturally to digital logic, internalising this new reality as an intrinsic aspect of their brand.
Based on the goals or types of action of businesses on the Web, one can identify, firstly, companies that use the digital environment with a fundamentally tactical approach (based on generating leads, communication, sales or customer services), and others that use the Web with a strategic perspective (achieving greater differentiation, optimising the value proposition and engaging with audiences).
By crossing these two variables, we can identify four brand scenarios or types:
Opportunistic brands
These are traditional brands that use digital environments to broaden their public (generally to reach a younger audience), as a sales channel or as a medium for publishing messages cheaply to build a reputation at a reasonable price.
This perspective is justified by the fact that 97% of consumers search the Internet (Google, directories, specialist sites, price comparers and social networks) when making decisions on purchasing products or services.
The behaviour of brands termed 'opportunists' here is more tactical than strategic, with an approach that goes no further than informational, commercial or promotional, although occasionally they benefit as brands from the novelty effect if their competitors have not considered opening up to the digital environment. Normally, these companies do not work on branding on the social networks or do so in a largely symbolic way. (It is also true that for certain companies, such as in the industrial sector, there are more useful alternatives than the traditional social networks for interacting with the public.)
In general, this type represents the first stage in the digital evolution of traditional brands.

Cepsa is an integrated energy group, present in all phases of the oil value chain. Their use of the digital channel is mainly based on promoting their brand messages and products over their website and mobile app, but without any deeper interaction with their users. Nor do they explore other media offered by the Web, which would undoubtedly improve the brand's preference rates among its target public.
In May 2012, GM announced that was leaving Facebook due to its low 'effectiveness and profitability'. The car manufacturer's stated goal was to use the Internet to broaden its public and increase its sales. The motor company used these media exclusively for this premise, and judged the results as unsatisfactory. Indeed, this is an issue that other traditional brands have raised, such as the textile company GAP or the videogame company Game Shop. In any event, the companies found there was a low return on investment for broadening the brands' and products' reputation among consumers. Some experts analysed GM's behaviour in Facebook to partly explain this low return: egocentric messages and limited dialogue with users.
2. Adapted brands
These are 'digital immigrant' companies, but they use the Internet strategically to strengthen or transform their value proposition, to make it more distinctive and relevant for their audiences and to increase their competitiveness. At the same time, they are brands that obtain higher returns on investment in marketing and communication, as they need less effort to gain a reputation.
Zara has invested decisively in extending their value proposition to the digital environment, transferring the shopping experience from their stores to their different online media. The figures speak for themselves: the virtual platform is now Inditex's most important 'store' by volume of sales, out of a total of nearly 6,000 shops worldwide. For example, its Facebook profile has more than 16 million fans, and it has set up specific customer care channels via Twitter. Its brand innovation and experience do not end there though, as Zara has launched its own social network (ZaraPeople), where users can upload photos of products bought at Zara in return for payment.
Dell is one of the clearest examples of the use of digital environments to strengthen their business assets in brand terms. The computer manufacturer has knitted a dense network of digital contact points that provide value for the consumer: Twitter as a sales platform (the company has no less than 47 different Twitter accounts, some very successfully geared towards direct sales); Facebook for customer services (where each question or complaint is given a qualified answer with a solution in less than 3 hours); and other specific platforms for innovation and other services (via the Direct2Del.com and IdeaStorm websites). These are undoubtedly actions that have adapted their brand best to the new digital environments, making full use of the new medium in terms of brand and business.
3. Basic brands
These are digital native companies, but ones that use the Web from a purely tactical point of view. Their digital presence often has a merely commercial focus: product and service offers, creating leads and contacts, sales pressure, building and using databases, and so on.
For many digital native companies, one of the factors affecting their success is creating knowledge of their product or service among their target publics at a reasonable cost. However, we have noticed that many digital brands do not extract full value from their market position. And it is not enough to have a great idea or the necessary expertise to carry it out; it is also necessary to reach the market and generate a relationship with audiences. And this obviously requires a budget and an online marketing and communications plan; but for this to be effective, it is essential to have a defined brand concept and position as a basis for the digital strategy.
In general, our so-called 'basic brands' do not have a sophisticated brand strategy or consistent presence in all points of contact, both on- and offline.
Ulabox is the first 100% online Spanish supermarket (with no physical stores), where users can shop over the Internet or on their mobile. It is an innovative proposal whose aim is to make life easier for consumers and whose business idea is based on various factors/trends:
1. Multitasking and pressure for more efficient time management have created an underlying need to reinvent the way housework is done.
2. The development of online, mobile and logistics solution platforms mean that the efficient and scaleable management of a sales and distribution system for mass-consumption products is not possible.
3. Internet penetration and the generalised use of smartphones have generated unbeatable short- and medium-term opportunities for growth.
4. The supermarkets are limiting the number of references as much as they can, creating growing dissatisfaction.
Runkeeper is a sports and technology app. It aims to record all our physical activity for analysis and to show our progress (which can be shared over the social networks). It is a simple, focussed, niche proposition; hence it is not yet very widespread. Mobile personal trainers are a growing phenomenon which combines different data-capture products, such as FuelBand bracelets, and which can also be linked to other attractive proposals in the same niche.
In our opinion, both companies have solid, focussed business proposals, although we believe they could make more of their digital presence by developing a more sophisticated brand and digital strategy. This would involve highlighting its concept of differential business and value proposition at the brand level while increasing its presence in the environment. Thus, these brands could improve their reputation, leading to higher numbers of new and repeat users and thus a greater impact on sales. Fundamentally, by increasing their online presence and continuing the on-going processes of innovation and improving the brand experience, basic digital brands have sufficient potential to compete in the medium-term with other players in their sectors.
4. Advanced brands
These are digital native companies that use the medium to generate barriers to entry and leverage new challenges. This is a strategic approach that generates real competitive advantages. To coin a phrase: it's not getting there that's hard; it's staying there.
If the current market teaches us anything, it's that digital native brands have to constantly strengthen themselves to prevent the competition from threatening their leadership and, thus, their market share. Given that the digital channel allows large numbers of players to enter each market, due to the minimal barriers to entry (both economic and technological, easy to imitate), it is necessary to strengthen the intangible value generated by brands, using both brand and digital environment development strategies to strengthen their value proposition and generate barriers to new competitors.
We have detected that these types of brands generate value in various areas:
– They enrich the brand strategy, reinforcing differential concepts with respect to the competition.
– They generate competitive advantages based on product or process improvement, obtaining real benefits for their targets.
– They optimise the marketing mix and explore new channels and formats.
– They deepen the relationship with stakeholders, generating greater engagement, with the ability to surprise them and meet their needs dynamically and close at hand.
These companies use all the potential of digital reality to interact and offer value to their audiences in real time, segmenting them and using market intelligence. And this behaviour, based at all times on a rigorous market strategy, acts as a multiplier for the company's competitiveness and generates a differentiated value proposition that competitors find hard to imitate. In short, they are strategies that produce an advantageous position and privileged relationships with their audiences (customers, employees, investors, suppliers, etc.).
Amazon represents one of the best-known stories of large Internet companies and one of the most frequently cited case studies in marketing manuals. This bookshop, which started out in garage in Seattle, is today one of the biggest online stores, a leader in sales of books, e-books, music and all types of technology and fashion products. Amazon practically reinvented the term 'web usability', facilitating the simple and intuitive purchase of products by users. It has been voted the most reliable company in the USA, an extremely important fact bearing in mind that it is a service company depending largely on third parties to distribute its products, putting the relationship with its customers at risk with each sale. But Amazon has not only generated a number of practically insurmountable barriers to entry for competitors in terms of user experience, product portfolio and service quality, in a process of constant innovation, it has also moved into hardware manufacture (Kindle) with considerable commercial success. Furthermore, thanks to this strategy, it has managed to reinforce its 'traditional' business through a feedback system (buying Amazon products for use on its tablet). Clearly a winning strategy.
Munich is not a digital native brand as such, because it was founded in the 1930s in Sant Boi de Llobregat, but since 2004 its digital behaviour has generated a niche for its brand. This was in response to the entry of large firms such as Nike and Adidas into its traditional market. This response saw the creation of its online store in 2004, an innovative channel for a brand with no stores of its own. Over time, it has improved its user experience through Munich My Way (allowing total customisation of its shoes); it has gained a brand reputation through co-branding mechanisms (many of them digital); and it has strengthened the fan concept through Mer.cat, a campaign to clear the stocks at one of its factories, which was a commercial and imaging success. At the same time, it has used ambush marketing to internationalise its brand, extracting value from each digital action, strengthening its traditional business of manufacturing and selling trainers.
Conclusions
Both traditional companies (set up before the digital revolution and operating mainly offline) and digital native companies (online from the start) can generate value for their audiences, combining a rigorous brand strategy with an adequate digital strategy for the brand that sets ambitious goals.
Companies must use the full potential of the digital environment to create stronger links with their audiences, providing them with a memorable brand experience.
The digital medium offers enormous possibilities for businesses: as a sales channel; as a means of broadening its public; as a medium for building brand reputation; as a channel for dialogue and relations; and as a means of strengthening and transforming its value proposition, among others. But both digital native and immigrant businesses need to have a strategic base at brand level as a rigorous focus for the presence, strategies and actions required in the digital environment, using the possibilities offered by the medium to their full extent, i.e., over and above the merely tactical and sporadic. The brand plan in the digital environment must stem from a more general brand strategy (which must first be formulated), as this can provide greater value to audiences and a greater return on investment.
Companies need to adapt to the new reality and new customer behaviours, while also creating more 'human' brands: brands capable of using the full potential of the digital environment to create stronger links with their audiences, providing them with a memorable brand experience.
When a solid and rigorous brand approach is combined with an appropriate and ambitious digital strategy, the value for the business and its audience multiplies.
The Internet is not just the fastest-growing sales channel, it also offers a unique opportunity to interact with users, explaining a clear value proposition and, based on their opinions, establishing improvements in all areas of action, occasionally creating barriers to entry that are difficult to imitate.
In brief, the digital reality is not just a commercial, marketing or technological issue (although these aspects are tremendously important); it is mainly a matter of differentiation, strategy and association, i.e. a brand strategy in its fullest sense! Thus, when a solid and rigorous brand approach is combined with an appropriate and ambitious digital strategy, the value for the company and its audience multiplies.